---
Manufacturers > Kurzweil > Kurzweil PC3 76-Key Performance Controller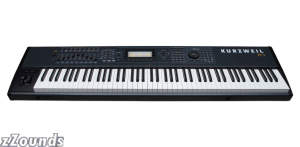 Kurzweil PC3 76-Key Performance Controller
In addition to Kurzweil's renowned Triple Strike Grand Piano, the PC3 features hundreds of new sounds; basses, drums, guitars, and synths suited for every style and taste, along with a collection of flawless vintage keyboard emulations, KB3 Mode and over 250 orchestral and string section programs. For good measure Kurzweil included a 16-track sequencer and more effects processing power than our acclaimed KSP8 processor, making the PC3 a full blown music production workstation. Add in USB, flash card port, a newly designed keyboard action, and a new intuitive user interface, and you've got the next generation of Kurzweil instruments.


Feature:
No sampling, that is really bad Kurzweil!

Quality:
Plastic feeling but sturdy, better with aluminum.

Value:
One of the best!

Desirability:
I got it, right!

Sound:
One of the best sounding Workstation out there!

Ease of Use:
A little bigger display, look at the competition Kurzweil.

Support:
Could have been better.

Overall:
I like all the others to but Kurzweil is a little step ahead!

Manufacturer: Kurzweil
List Price: $2830.00
Online Price: $2295.00

Buy Kurzweil PC3 76-Key Performance Controller at zZounds.