Windows
Articles about Windows:
---
Send to a Friend
|
Feed for this Entry
| Filed under:
Software Synthesizers & Samplers
Developer Dmitry Sches has released Diversion, a new software synth for Windows.
Features:
Sound generation – 4 oscillators with a wide range of different waveforms with a near to zero level of aliasing. Oscillators generate sounds in real-time with algorithms for optimal sound quality at high frequencies. All waveforms have two independent parameters X and Y allowing you to adjust the timbre. Includes FM, RM, wave shaping and filtering.
Bus processors – Two bus processors each featuring a stereo multi-filter, distortion and LO-FI section.
Filter modes:
24db Lowpass, Highpass and Bandpass
12db Lowpass, Highpass and Bandpass
Acid Lowpass and Bandpass
48db Bandpass
Ring Lowpass
Formant
2, 4 and 8 pole Alpass
Notch, Peak, Lowshelf, Highshelf, 6db Lowpass
Comb+, Comb-, Bell Comb
Effects – Two flexible FX lines, separate processing of each bus processor's output. Up to 8 effect instances can be stacked in one FX line.
Oversampling – up to 8X oversampling within a whole processing path, excluding FX section. Models of all processing modules in Diversion are designed using at least 2X oversampling.
Modulation – Many parameters can be modulated by 4 LFOs, 4 ADSR Envelopes, 4 MSEGs and one XY-controller, called Master Morph. Automation and MIDI controllers are supported.
Arpeggiator and Trance Gate – 32-step Arpeggiator / Sequencer and a 16-step Trance Gate module.
24

Comments
---
Send to a Friend
|
Feed for this Entry
| Filed under:
Amplifiers, Speakers, Monitors
,
Computer Hardware
,
Music News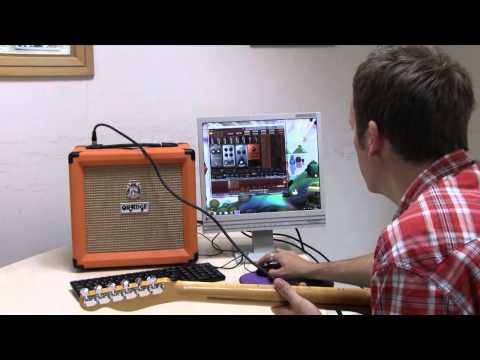 Remember the Orange OPC Guitar Amplifier + Recording Studio Workstation – the bizarro computer + guitar amp combination that was introduced at this year's NAMM Show?
Music Radar got their hands on one of the Orange OPC computers and put together this first look at it.
According to Orange, the OPC computer will be leading the way with a number of 'Firsts':
The first PC to feature an integrated audio interface enabling the user to plug in a guitar or microphone using a standard 1/4? jack plug
The first computer of its kind to have built-in high powered speakers which deliver full range studio quality sound as well as producing vintage guitar sounds.
The OPC comes with the following software packages:
IK Multimedia Amplitube 3 including Custom Shop Orange Amps – Amp and Effects Modelling Software
Presonus Studio One Custom Orange Edition – DAW
Acoustica Mixcraft 5 – DAW
Toontracks EZdrummer Lite
Lick Library Player – Guitar learning and jamming centre
10

Comments