Windows music software
Articles about Windows music software:
---
Send to a Friend
|
Feed for this Entry
| Filed under:
Software Synthesizers & Samplers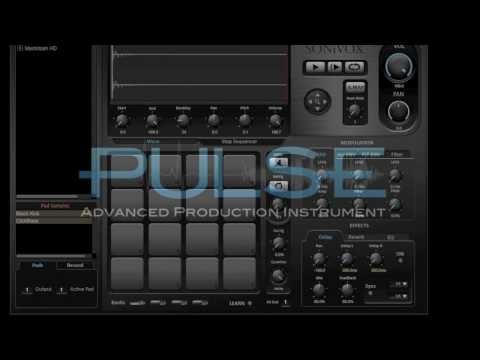 This is a sneak preview of SONiVOX PULSE Advanced Production Instrument, a new software music production workstation:
PULSE combines the feature set highlights of today's popular hardware music production units, along with the power and multidimensional capabilities afforded by the software paradigm. In doing so, PULSE is able to offer music producers expanded features & functionality as well as an unrestricted workflow, eliminating multiple menus, button clicks, memory limitations, and more.
Features:
Next-generation music production software for MAC and PC, combining MPC style editing and workflow.
Imports most MPC file formats including MPC 60/II, MPC 3000, MPC 2000, MPC 2000XL, MPC 1000, MPC 2500, MPC 500, MPC 5000, as well as AIFF, WAV, Broadcast WAV, ACID & MP3 files.
8 User-assignable stereo outputs and 8 User-assignable effects busses, complete with tempo sync stereo delay, EQ, and reverb effects
Onboard real-time sampling
64 user assignable pads with Infinite sample layering and multiple playback modes
Per pad editing of LFO, volume, pitch, envelope, panning, and filter with ten user selectable filter types.
User-assignable auto pitch map, velocity override (full), choke and one shot modes
User adjustable input-quantize
Over 400 premium instruments and drum kits
Midi learn & save functionality, PULSE is instantly compatible with any MIDI keyboard or pad controller
Pad-specific variable resolution note repeat
Advanced multi-mode pattern and step sequencer which optionally locks to your DAW/host
Works as a MAC or PC Standalone application or as a VST, AU, & RTAS plugin.
PULSE is slated for a release date of November 1st 2010, with a MSRP of $199.99 and an estimated street price of $149.99. Some retailers will be offering PULSE at an introductory price of $99.99 throughout the holiday season.
0

Comments
---
Send to a Friend
|
Feed for this Entry
| Filed under:
Software Synthesizers & Samplers
[BLOK] is a new modular synthesizer for Windows, originally designed as a platform for teaching audio synthesis to students.
Features:
Classic synthesizer modules such as Oscillators, Filters, Envelopes and Effects
Easy to use interface. Blok was originally created as an educational program to teach audiodesign principles. This means that each module is simple to understand.
Connect everything. There are no limits on connecting blocks together.. if a block generates a signal, connect it up!
Versatile DSP engine. Additive, Subtractive and FM synthesis are all possible. Let Blok be your synthesis swiss army-knife.
Full undo/redo. Dont like what you have done? Go back to a time when you did!
Low in cpu. Blok was made to run well even on low-end computers. On today's machines, it tears up the track! This will let you make more complicated setups and get more bang for your synthesis buck.
[BLOK] is currently a free download, but the developer notes "only the buzz version is officially supported at this point! the standalone and VST versions are under heavy construction, use at your own risk."
6

Comments