music history
Articles about music history:
---
Send to a Friend
|
Feed for this Entry
| Filed under:
Synthesizers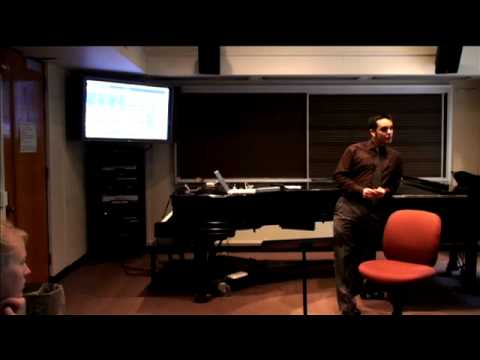 This video, via MIT, takes a look at the history of the modular synthesizer.
It captures a lecture by Prof. Christopher Ariza, from MIT's Music and Technology (Contemporary History and Aesthetics).
Topics covered include:
The Modular Synthesizer: Overview
The RCA Synthesizer
RCA Synthesizer Mark I
Buchla 100 Series Modular Electronic Music System
Moog modular systems I, II, and II
Modular synthesizer concepts
Key synthesizers
A PDF is available that goes along with the lecture. Read more…
0

Comments
---
Send to a Friend
|
Feed for this Entry
| Filed under:
Electronic Musicians
,
iPods & Portable Media Players
,
Software Effects & Audio Processors
iGendyn (App Store link)  is a free iPhone synthesizer that lets freak it, Iannis Xenakis style, exploring GENeral DYNamic stochastic synthesis.
If you've never heard about GENeral DYNamic stochastic synthesis, or even electronic music pioneer Iannis Xenakis before, don't worry. iGendyn offers psychedelic 3-voice polyphonic noise fun, and the fact that it's an application of Xenakis' ideas is just icing on the cake.
More on GENeral DYNamic stochastic synthesis below.
Give iGendyn a try, and leave a comment with your thoughts! Read more…
0

Comments