Moog synthesizer
The Moog synthesizer and other early designs of Dr. Robert Moog define the concept and, to a large degree, the sound of early synthesis.
Moog created his seminal modular synthesizer in the mid sixties, with the input of educator and composer Herbert Deutsch. Moog's modular synth defined the standardized blocks of music synthesis, including signal generating modules, like the voltage controlled oscillator; signal processing modules, like the voltage controlled filter; and control modules, including keyboards, low-frequency oscillators and sequencers.
Many of the ideas that originated in the first Moog synthesizers were repackaged in his later keyboards, including the Moog Minimoog, the Moog Taurus and the Polymoog.
Here are the most recent Synthtopia posts relating to the Moog synthesizer:
Articles about Moog synthesizer:
---
Send to a Friend
|
Feed for this Entry
| Filed under:
Synthesizers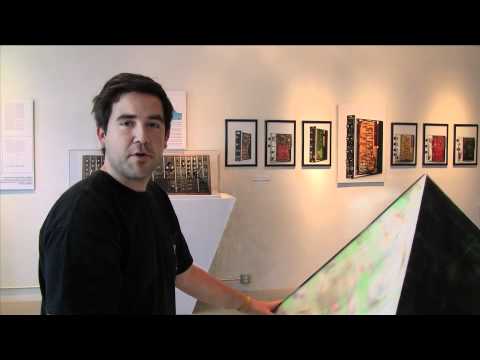 Gene Felice, curator for the Bob Moog Foundation's new exhibit, Pushing the Envelope, walks through the show in Asheville's River Arts District.
A collaboration between the Asheville Area Arts Council and the Bob Moog Foundation, Pushing the Envelope ran for three weeks with educational workshops, dance, and musical performances.
via moogfoundation
1

Comment
---
Send to a Friend
|
Feed for this Entry
| Filed under:
Synthesizers
The UC Berkeley Music Department is auctioning off a Moog 3P modular synthesizer that it has had in storage for decades:
Complete Moog 3P modular synthesizer
with sequencer option (2 sequencers total) and additional 3-piece high/low+coupler filter set
This unrestored Moog 3P has been in storage at a university for decades. It is being sold "as is". However, it has been recently checked for functionality, which is very good–very few functional problems (documentation is available). Lots of dirty and/or intermittent jacks, pots, and switches, as expected in a unit of this age. Cosmetic condition is good to very good. Our suggested opening bid is $10,000.00. This is an extremely valuable instrument in good condition; please only contact seller if you have a serious interest in purchasing.
The modules included are–
Case 1
914, 905, 901A (2), 901B (6), Filter/attenuator, Mult panel, CV unit (2), mixer (2)
Case 2
904A, 904B, 904C, 901A, 901B (3), 903, 912, CV unit (3), mixer (2)
Case 3
902 VCA (4), 911 EG (4), 911A, 984 mixer, trigger/envelope module, controller interface module, power supply
Case 4
960 (2), 961, 962 (2)
Case 5 (wood case, no road case)
904A, 904B, 904C
Item 6 (no case)
950 keyboard controller (one key broken)
Item 7 (no case)
956 ribbon controller
Item 8
box of patch cables (audio and S-trigger) and power cables; schematics
Keeping a Moog 3P modular synthesizer in storage for decades and then auctioning it off seems like a big lost opportunity for students to work with a piece of music history. The auction, though, is a rare opportunity, too.
Auction details are available here.
22

Comments