Moog-music
Articles about Moog-music:
---
Send to a Friend
|
Feed for this Entry
| Filed under:
Electronic Instruments
,
Synthesizers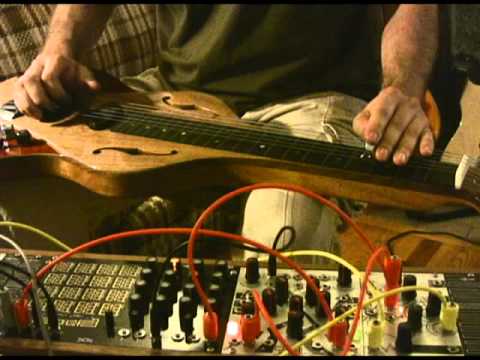 Reader and Experimental Synth guru Chris Stack sent word of this unique synth jam, which combines modular synthesis & Moog Lap Steel Guitar:
Moog Lap Steel pioneer Billy Cardine carves out a unique sonic landscape with the Lap Steel, analog and digital effects (Moogerfoogers, Eventide reverb) and cutting-edge modular synthesis gear (the MakeNoise René cartesian sequencer). A top player meets powerful, expressive technology and this video just shows the tip of the iceberg…
You can find more examples of Stack's creative synth work on his YouTube channel.
5

Comments
---
Send to a Friend
|
Feed for this Entry
| Filed under:
Hardware Effects
,
MIDI Controllers
,
MIDI Interfaces
Free Music Software: Moog Music has introduced a free software VST controller plug-in for their popular MF-105M MIDI MuRF pedal.
The MIDI MuRF (Multiple Resonance Filter Array) is an advanced combination of two MOOG pedals: the MF-105 MuRF and the MF-105B Bass MuRF. It use an 8 band array of resonant filters with a pre-programmed animation section to create unique sequenced filter effects.
The new MuRF_Controller is designed to let Midi MuRF users control and expand its' power and capabilities from within their DAW.
Features include:
Full automation functionality – use your DAW's plugin automation tools to create fully automated parameter changes on the MIDI MuRF. Every knob and every filter is now "easily" edited from the MuRF_Controller.
Create, recall and save presets – Quickly capture and recall any amazing sound you have created on your MIDI MuRF. Once you've discovered a sound, you can easily save it within your MuRF_Controller plug-in.
Envelope Scale – Allows you to access a time multiplier for the envelope that "stretches" or "shrinks" the duration of the envelope without changing the envelope shape. Changing the envelope time scale independent from the pattern rate provides a whole new range of sonic effects!
LFO Rate – Allows direct access to the MuRF's LFO speed
Staccato and Triplet mode – Allows access to even more creative musical timing modes in the MIDI MuRF
MuRF Controller VST plug-in is a free download from the Moog site for all owners of the MF-105M MIDI MuRF.
0

Comments