keytar
Articles about keytar:
---
Send to a Friend
|
Feed for this Entry
| Filed under:
Music News
Heads up for the worship keyboardists out there – Wildwood Church Worship Pastor Matt Faulkner wants to get you out of the choir loft and out in front, shredding.
He recently introduced a 'Keytar Tuesdays' section to his blog, Worship Keyboardist, and he's already come up with a few goodies, like this video of Petra's John Lawry, doing a little keytar face-melting on Jesus Loves You: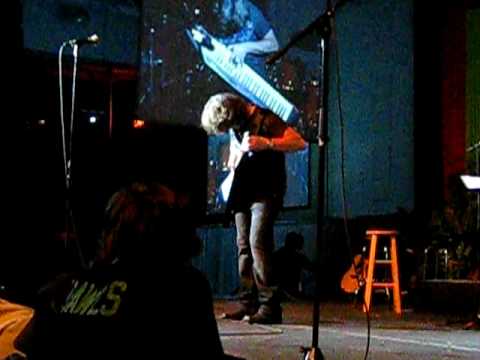 The bizarro keytar action kicks in at about 1:45 in.
Faulkner's not taking this too seriously – as his choice of photo, above, demonstrates.
Still – we think he  may be on to something. What service wouldn't be better with a little spirited keytar shredding?
4

Comments
---
Send to a Friend
|
Feed for this Entry
| Filed under:
Keyboard Synthesizers
Stalwart synthtopian MirlitronOne brought this video to our attention, raising the question of whether Matthew Bellamy of Muse might possibly have broken The Curse of Herbie Hancock.
The Curse Of Herbie Hancock (Google it) is the little-known, but unfortunate fact that Herbie Hancock is the only guy ever to look cool playing the keytar.
In the video for Undisclosed Desires, Bellamy is clearly seen holding a bizarre keytar axe-thing.
"Could be we've missed out on only the third keytar player to look cool (after Herbie Hancock and Brett Domino)," asks MirlitronOne, "Matt Bellamy?"
It's good to know that readers are considering important questions like this.
Read more…
16

Comments