iOS
Articles about iOS:
---
Send to a Friend
|
Feed for this Entry
| Filed under:
Apple iPad
,
MIDI Controllers
Developer Audeonic Apps has introduced MidiBridge – a utility that interconnects all MIDI interfaces (external and network) on an iOS device.
Supported external interfaces include Line 6 Midi Mobilizer I and Midi Mobilizer II, IK Multimedia iRig MIDI and all other CoreMIDI devices that are compatible with iOS via the USB camera kit on iPad. For CoreMIDI support, iOS 4.2 or greater is required.
You can use MidiBridge to:
Connect any external MIDI equipment to a remote computer or other iOS device (iOS > 4.2) wirelessly
Clone MIDI data from any input to any set of outputs
Filter incoming MIDI data on each input
Filter outgoing MIDI data on each output
Merge incoming inputs to one or more outputs
Split incoming MIDI data (using filters) across any set of outputs
Other features:
Events can be filtered by type (Note/Program/Controller/Sysex/Aftertouch/TimeSong) and MIDI channel
MIDI interface ports can be given a user friendly name
Initiates CoreMIDI network connections from your iOS device
Visual indication of what is connected to where at all times
Visual indication of MIDI events received, sent and blocked
Visual indication of CoreMIDI network connections
Highlight all connections to/from any MIDI input or output.
Keeps track of your MIDI interfaces and restores connections/filters automatically
MidiBridge is delivered as a universal binary so purchase once and run on all iOS devices you own
Streamlined efficient code passes/filters events very quickly
See the Audeonic site for details. MIDIBridge is $8.99 in the App Store.
If you've used MIDIBridge, leave a comment with your thoughts!
3

Comments
---
Send to a Friend
|
Feed for this Entry
| Filed under:
Apple iPad
,
Software Synthesizers & Samplers
,
Virtual Instruments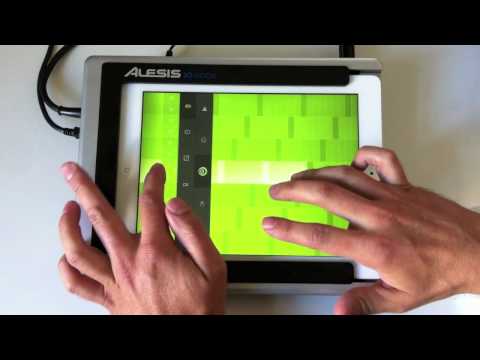 Rolf Wöhrman, developer of the NLogPoly Synth line of iOS apps, has posted an  Open Music App Collaboration Manifesto, calling on iOS music developers to push ahead with inter-app collaboration features:
This is a doc about how iOS apps should use MIDI while running on same device. It provides a set of best practices which should make user experience as great as possible for people who want run apps in parallel like in these scenarios:
- A controller app (like SoundPrism, Polychord etc.) in front plays a sound generating app eg. a synth (like NLogSynth etc.) running in the background
- Two beat-oriented apps eg. a drum machine (like MoDrum, Molten, Funk Box etc.) is running in sync with another app (like NLogSynth arpeggio or BassLine etc.)
- A sequencer app controls other sound generating apps like synths, drum machines etc.
- An external MIDI controller plays a synth app running in the background while the iOS interface is used for an app in the front triggering loops
- Any combination of these scenarios: A sequencer app controls a drum box & arpeggiated synth in the background while the user plays controller app controlling another synth in the background.
An example is embedded above.
CPU & RAM are the only limits!
Wöhrman goes on to detail 7 'must haves' for inter-app collaboration and 9 more options that are desirable.
He notes that "Most best practices described here are neither rocket science nor my inventions. I just tried to summarize what needs to be done to have a great user experience."
What features do you think iOS music apps need most?
You can read the full manifesto here and there is also a Google group to discuss and refine the ideas.
21

Comments