Eric Persing
Articles about Eric Persing:
---
Send to a Friend
|
Feed for this Entry
| Filed under:
Keyboard Synthesizers
Spectrasonic's Eric Persing has announced the OMG-1 Contest, an opportunity to win Persing's custom-built Moog + iPad monster synth, while helping to preserve the memory of Bob Moog.
The contest is a benefit for The Bob Moog Foundation – an organization that seeks to preserve the legacy of Moog and his work. 100% of the proceeds from this contest will go to supporting the projects of the Bob Moog Foundation, including their MoogLab student outreach program, the creation of the future 'Moogseum' and their efforts to preserve and share Dr. Moog's extensive archives.
Here are the contest details:
The Grand Prize
In addition to numerous special prize winners, one person will win Eric Persing's custom OMG-1 – a one of a kind synth which integrates the worlds of analog synthesis, computers, software synthesis and the latest multi-touch surfaces into one instrument.
The OMG-1 combines a Moog Little Phatty, Omnisphere, Mac Mini, dual iPads, dual iPods, and Omni TR – into a hand-crafted curly maple cabinet. The OMG-1 will be presented to the contest winner at the 2011 Moogfest in October; Spectrasonics will fly the grand prize winner to the event.
Get Creative
To enter the contest, first purchase and download the new Bob Moog Tribute Library for Omnisphere, then write some great music utilizing the sounds. When you are finished with your track, upload your submission. You can enter multiple times, but the submission deadline is July 15th, 2011. The winners will be announced on the Spectrasonics website on September 15th, 2011. See the contest site for details.
The Bob Moog TRIBUTE Library
Produced by Eric Persing, the new Bob Moog Tribute library consists of over 700 sounds for Omnisphere – created by 40 of the world's top artists and sound designers. The new soundsources were developed using rare Buchla Modulars, the EMS Synthi AKS, Hans Zimmer's massive Modular Moog and the OMG-1 itself. Read more…
6

Comments
---
Send to a Friend
|
Feed for this Entry
| Filed under:
Synthesizers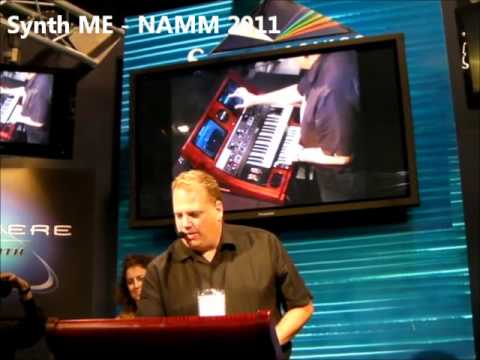 One of the coolest introductions at the 2011 NAMM Show was a synth that you can't even buy, Eric Persing's iPad + Moog frankensynth, the OMG-1.
Persing designed the OMG-1 as a contest promotion for the Bob Moog Foundation. This video, via SynthMeTV, captures the unveiling of the OMG-1 at NAMM.
In the first have of the video, Persing and Michelle Moog-Koussa talk about the contest and introduced the OMG-1. The second half of the video, though, captures Eric Persing's OMG-1 frankensynth freakout!
Check it out and let me know what you think of the OMG-1 synthesizer!
12

Comments