djay
Articles about djay:
---
Send to a Friend
|
Feed for this Entry
| Filed under:
Apple iPad
,
DJ
,
iPods & Portable Media Players
Algoriddim has updated djay, its iPad DJ software, to version 1.3.
The update brings support for two new accessories created for djay:
The Numark iDJ Live controller; and
The Griffin DJ Cable.
Here's what's new:
Added support for Numark iDJ Live controller for djay
Added PFL buttons for individually assigning pre-cueing channel
Added Cue/Mix slider to fade between master and pre-cueing output
Added pre-cueing "Auto Select" option in Advanced settings
Improved pre-cueing auto-select behavior
Improved update of speed slider range when syncing tracks
Improved Bounce Loop with Key Lock enabled (iPad 2)
Improved cue point set accuracy in certain cases
Added support for high efficiency AAC files
Fixed occasional freezing of audio when switching from background
Fixed occasional sound drop when activating Key Lock (iPad 2)
Fixed drop outs when playing recordings on iPod touch 3rd gen
djay is available in the App Store and is currently priced at $9.99.
23

Comments
---
Send to a Friend
|
Feed for this Entry
| Filed under:
Apple iPad
,
DJ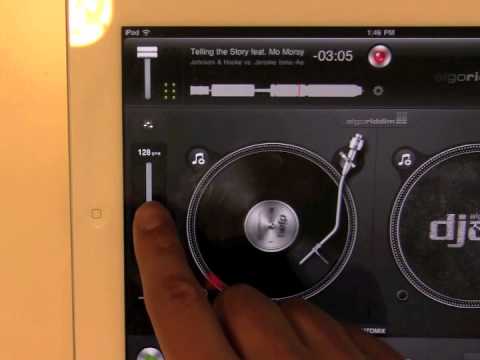 Algoriddim has announced djay for iPad 1.2, now available on the App Store, with some sick new features for iPad 2 users.
The new features, designed to leverage the dual-core processor of the iPad 2, include high quality time-stretching (key lock) and an enhanced audio analysis.
New in djay for iPad 1.2:
Key Lock: Utilizing zplane.development's advanced time-stretching technology, élastique efficient, Key Lock offers the ability to stretch the audio of each turntable individually in real-time, enabling users to change the speed of the song without affecting its pitch
Enhanced Audio Analysis: Features high precision beat-grid and onset extraction with a visual representation on the wave form; users can now beat-match songs with even greater precision
Loop / Cue Snapping: djay aligns loops and cue points to the song's beat grid based on the enhanced accuracy of the audio analysis
"The iPad 2's blazing fast performance opened new doors for real-time processing, and we're committed to ensuring djay for iPad evolves right along with it, offering the most realistic and feature-rich DJ experience available," said Karim Morsy, CEO of algoriddim.
djay for iPad 1.2 is available for $19.99 in the App Store.
2

Comments