avant garde
Articles about avant garde:
---
Send to a Friend
|
Feed for this Entry
| Filed under:
Music Videos
Matthijs Munnik's Microscopic Opera is an abstract opera, performed by the micro-organism C. elegans – a tiny worm of less than a mm in length, and the workhorse for genomics research.
Here's what Munnik has to say about the work:
The completely worms are monitored by scientist from their first cell division to their death and have gone trough thousands of generations of manmade mutations and alterations.
In this piece I give them a little influence in the macroscopic world outside their petridish.
Each petridish contains different strains of C.elegans, that each move in a different way. All petridishes are filmed with a usb microscope and shown live on one of the five screens. Special software translates the movements of the worms into sound in real time. (5 channel)
1

Comment
---
Send to a Friend
|
Feed for this Entry
| Filed under:
Synthesizers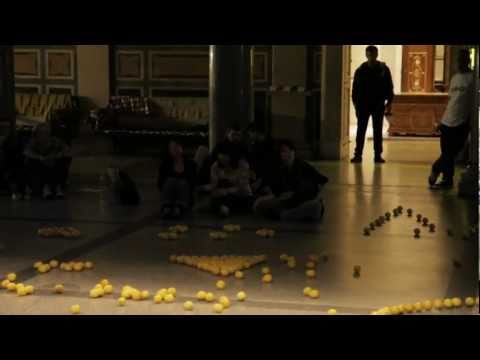 Sunday Synth Jam: The Lemon Synthesizer is a performance/installation/musical work, created by Akemi Takeya, that uses a 'citrus-based interface'.
From the official project notes:
Naturally occurring voltages in lemons are used as signal controllers for an audio synthesizer to manipulate audio processing.
The contents of a lemon are never stagnant and are constantly changing and self-renewing. With this bio-machine, Takeya sets a unique approach to art, science and invention.
Takeya lives and works in Vienna.
via MAKNite
6

Comments