audio interface
Articles about audio interface:
---
Send to a Friend
|
Feed for this Entry
| Filed under:
Music News
Musikmesse 2011: The teasers are starting to come hot and heavy for the upcoming Frankfurt Musikmesse, which starts April 6th.
The latest is for the Dark Matter Audio Smart Audio Hub. We don't know what a Smart Audio Hub is, so we'll let Dark Matter Audio explain:
Introducing next generation technology for all musicians – from studio producer to the guitarist on stage, DMA1 is the Smart Audio Hub that knows no limits. It will have its first public unveiling at The Frankfurt Music Show 2011, we are in Hall 4.1 Stand D50.
It's features are innovative, its capabilities are vast. The first product specifically designed to work in a 21st century environment. The landscape for the creative artist in a Studio, live or broadcast environment is about to leap into a new future.
So – here's what we know about the Smart Audio Hub… Read more…
15

Comments
---
Send to a Friend
|
Feed for this Entry
| Filed under:
Apple iPad
,
Audio Interfaces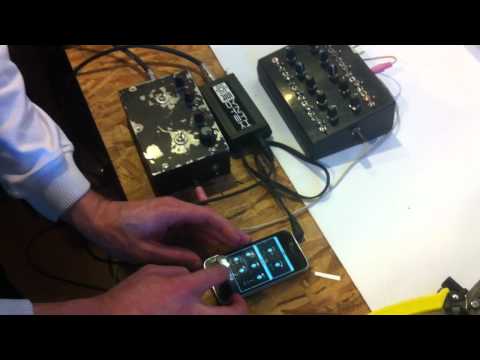 This video, via synthrotek, demos their new audio interface for iOS  devices.
The iOS audio interface connects to the 3.5 mm jack on your iPod touch, iPad or iPhone. It connects 1/4 inch Mono input and outputs 1/4 inch Stereo.
Synthrotek's audio interface retails for $25.99. Not that they are offering a couple of variations on this idea at their site with different connectivity.
20

Comments