Audanika SoundPrism
Articles about Audanika SoundPrism:
---
Send to a Friend
|
Feed for this Entry
| Filed under:
Apple iPad
,
iPods & Portable Media Players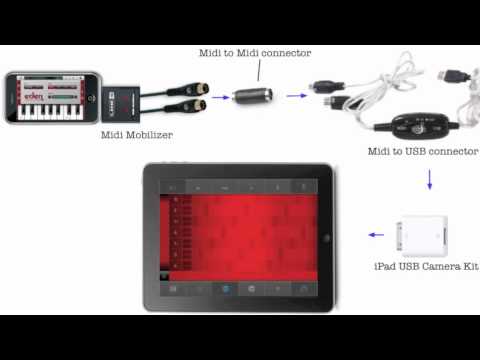 This video, via flamingstylus, demonstrates one approach to connecting an iPad to an iPhone or other iOS device, using hardware MIDI.
Setting up a simple hardware link like this is fairly convoluted, but works. We're looking forward to seeing simple, inexpensive hardware solutions along with greater support for Wireless MIDI.
11

Comments
---
Send to a Friend
|
Feed for this Entry
| Filed under:
Apple iPad
,
iPods & Portable Media Players
,
Music News
,
Software Synthesizers & Samplers
Last week, Apple rejected an update to Audanika's SoundPrism music app, because of the way Audanika offered MIDI support only as an in-application purchase.
It was a controversial app rejection.
Many agreed with our view, that a "MIDI tax" is a bad for both users and developers, in the long run. Others, though, thought that it should be completely up to developers to decide what they charge for.
So we asked Sebastian Dittmann, right, the CEO of Audanika GmbH, to explain his side of the rejection of the SoundPrism update, to share his thoughts on how Apple could improve their approval process and to explain why it matters.
Synthtopia: First, for context – what's Audanika SoundPrism, in a nutshell?
Sebastian Dittmann: SoundPrism is an app for iPhone, iPod touch and iPad. It's an instrument that is based on the idea that arranging notes in a different way than a keyboard helps people not only understand but also use harmonic theory, without having to study it for years. At the same time, accomplished musicians can use it as a new approach to composing.
SoundPrism – by default – arranges notes in a circle of thirds which is embedded in the well known circle of fifths. Every key has a different color and you can scroll through them. We've just launched an interactive guide.
Synthtopia: The latest update to your iPad synthesizer SoundPrism, right, was rejected last week by Apple, because they thought your decision to treat MIDI support as an in-app purchase failed to comply with their developer guidelines.
What are your thoughts on this decision, and how is your company going to respond?
Sebastian Dittmann: It's Apple's store, it's their rules. We're using their ecosystem to distribute our software and therefore we have to adhere to their guidelines since Apple has the final say in things.
We're responding by doing what many other developers do – we're going to release different versions of our app with different feature sets at different price points.
Synthtopia: We agreed with Apple on this decision. We thought that treating MIDI as an optional paid add-on would be be confusing and even aggravating to musicians.
We want developers creating music apps to get paid for their work, but don't think that a "MIDI tax" is the way to do it. What are your thoughts on this?
Sebastian Dittmann: Before answering your questions, let me say that we only tried to come up with a solution to only have those of our users pay for a feature who actually want it. We didn't want all of our new customers to pay for something only a small percentage of them actually makes use of.
At the same time we couldn't just 'enable CoreMIDI' like flicking a switch. Our application has some specifics that make it different from other music apps.
In SoundPrism you might want to send out on different Midi Channels with each of your fingers. Also you might be playing the same note at the same time with two fingers or even three or four. SoundPrism is a harmonic instrument which sends out more MIDI notes than a regular instrument. It takes more thought and development resources to implement MIDI in SoundPrism than it would in a regular keyboard application.
Also, I think musicians read the features listed in the description of an app on the App Store before buying it. If the feature they want isn't listed there they're free to not buy the app. Read more…
21

Comments