Analogue Solutions
Articles about Analogue Solutions:
---
Send to a Friend
|
Feed for this Entry
| Filed under:
Synthesizers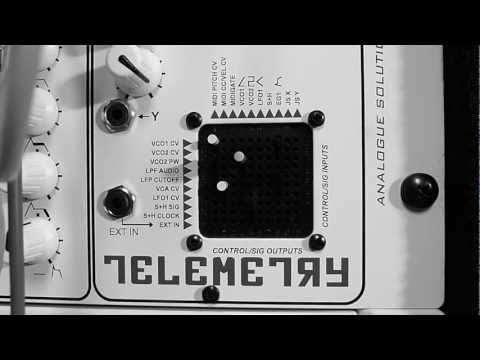 This is a video demo of the Analogue Solutions Telemetry (Mini Vostok) Analogue Synthesizer. 
Key Features of the Telemetry synthesizer:
Pure analogue voice circuitry
Patch points to allow more sound types, and to cross-patch with your modular synths
Mini Pin Matrix patch panel to eliminate the use of some patch cables
Plenty of modulation possibilities
Rugged steel construction
MIDI In for software sequencer / keyboard control
Specifications:
MIDI-CV converter: pitch, auxiliary CV outputs, and Gate.
VCO1: CV In, PW In, Sawtooth Out, Square Out.
VCO2: CV In, PW In, Sync In, Saw Out, Square Out, 3x Sub VCO Outs.
VCLPF: 2x Sig In, 2x CV In, VCA CV In, Sig Out. Moog style transistor ladder filter.
VC LFO1: Saw, Inverted Saw, Square, Triangle outs, Freq CV In.
LFO2: Triangle and Square Outs.
Sample And Hold: Sig In, Clock In, Sig Out.
White Noise
Envelope: Trig In, Normal and Inverted Outputs. EMS style repeat feature.
X/Y non-sprung Joystick
10×10 signal matrix Patch Panel
10 Shorting pins included
The Analogue Solutions Telemetry is priced at £1099 exc. tax & delivery. Details at the Analogue Solutions site.  Read more…
13

Comments
---
Send to a Friend
|
Feed for this Entry
| Filed under:
Synthesizers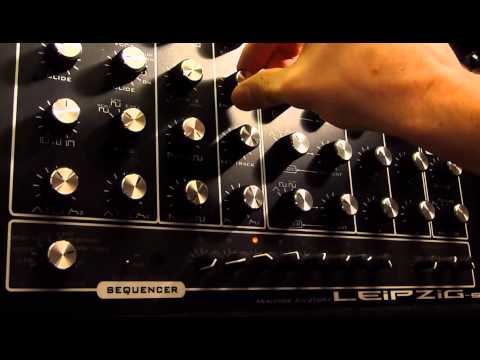 Here's a brief first look at the new Analogue Solutions Leipzig-s analog synthesizer.
Here's what they have to say about the Leipzig-S:
This beast of a synth represents the latest in Analogue Solutions' Leipzig line and incorporates a vast number of new features, most notably the 8-step on-board sequencer which can be synced and controlled in a vast number of innovative ways (midi, LFO, VCO, etc.)
This video serves as a first glimpse of the synth – yes, it's a teaser. The evolving sound uses the Leipzig's on-board step sequencer, however the pitch of the notes is controlled via MIDI. The sequencer can also be stepped manually via a MIDI keyboard.
Sequencer reset is handled via accent (or using heavy velocity on a MIDI note).
A beat was added to provide some context for the evolving bass line.
10

Comments