---
Send to a Friend
|
Feed for this Entry
| Filed under:
DJ
,
MIDI Controllers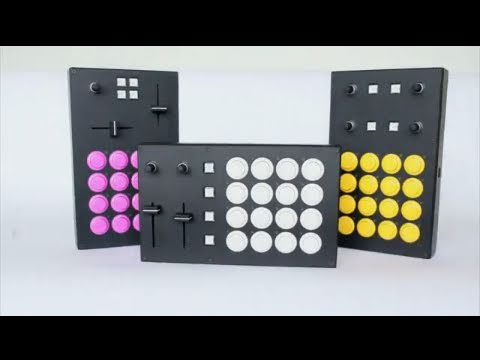 DJ TechTools has released a new line of DJ Controllers, Midi Fighter Pro.
Four models are available – Beat Masher, Cue Master, Super Knob, XX Fader – each priced at $349.
Here's what designer Ean Golden has to say about the new controllers
For the past year , we have been experimenting with various midi fighter configurations in our search to find the perfect controllerist instrument.
After much exploration, I settled on 4 popular layouts that combine playability, function and strength into one powerful surface.
Golden adds "If you are looking for a super unique and powerful midi instrument, the midi-fighter pro is hard to beat."
Photos and details below. 
Features:
Robust metal casing.
Chip proof surface.
High performance arcade buttons.
Bright blue LEDs.
MIDI controllable mode buttons.
Rugged faders and knobs.
Smooth high performance surface.
Analog controls send super knob values out of the box.
Digital buttons send super combo values out of the box.
Trade in program for existing Midi Fighter owners.
Tags: arcade buttton, controller, Controllerism, cue master, DJ, dj controller, Ean Golden, MIDI Controllers, midi-fighter, Serato, Traktor Pro
11

Comments
---